Lumpini Condo Town Chonburi-Sukhumvit review
Hello, today we will talk about Lumpini Condo Town Chonburi-Sukhumvit. It is a condo built from a famous real estate development company. Listed on the Stock Exchange of Thailand for Lumpini Condo Town Chonburi-Sukhumvit Located on Soi Petch Ban Suan 16, Sukhumvit Road, Bang Pla Soi Subdistrict Mueang Chonburi District Chonburi Province for Lumpini Condo Town Chonburi-Sukhumvit Near Chonburi Hospital, El Hospital, Chonburi Railway Station Central Department Store Chonburi Big C Department Store Tesco Lotus Tukcom Department Store
Lumpini Condo Town Chonburi-Sukhumvit It is a low-rise condo or Low-Rise condo with a total of 8 floors with up to 22 buildings. Lumpini Condo Town Chonburi-Sukhumvit has an area of ​​​​37 rai. The room size is between 21 square meters to 52 square meters. Choose both 1 bedroom and 2 bedroom units with more than 4,000 rooms and more than 12 shops for Lumpini Condo Town Chonburi-Sukhumvit completed. in the year 2014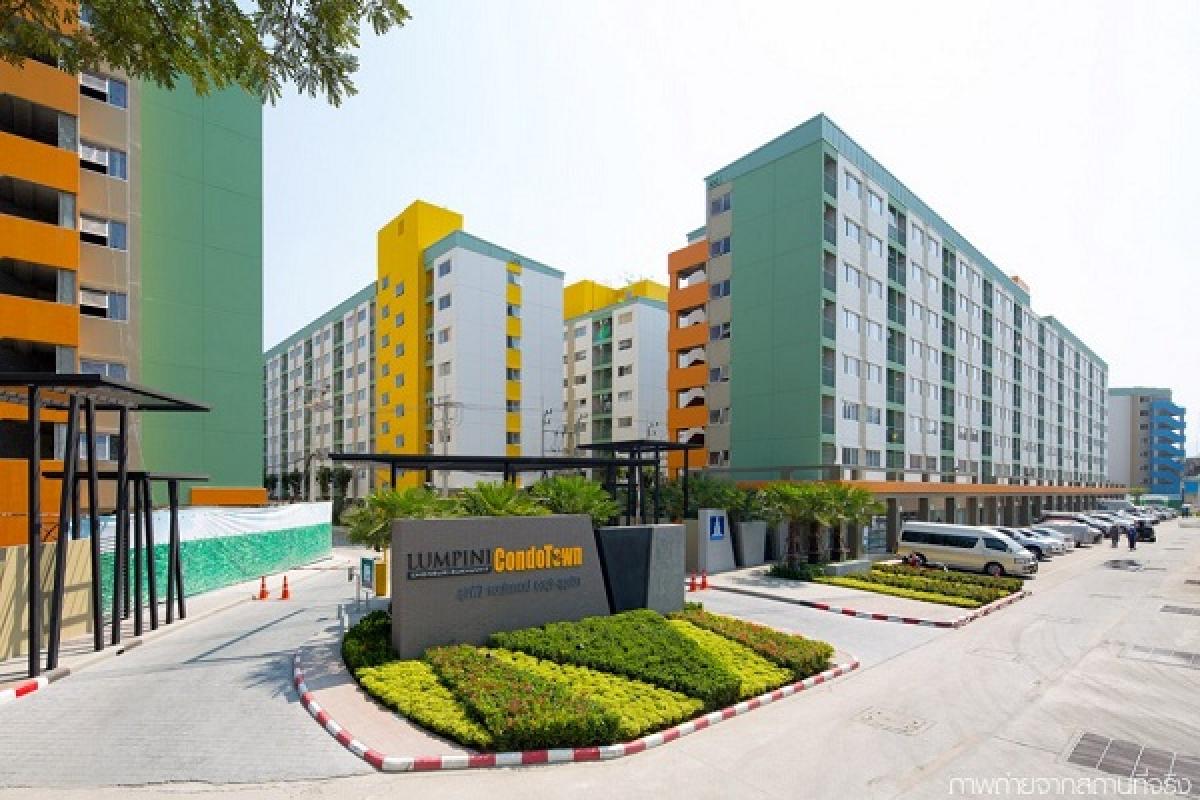 Lumpini Condo Town Chonburi-Sukhumvit There are many facilities such as a swimming pool for relaxing and cooling off, a fitness room for those who love health. There is a garden as a green area to relax. have a shop There is a restaurant for eating, laundry, and an elevator for going up and down between floors. There is a 24-hour security unit with key card access. There is a car park
For those who stay at Lumpini Condo Town Chonburi-Sukhumvit Don't worry about your health, Lumpini Condo Town Chonburi-Sukhumvit Near Chonburi Hospital, about 650 meters, near Ekchon Hospital, 1.8 kilometers, near Chonburi Cancer Hospital, 4.5 kilometers, near Ekchon Hospital 2, about 6.6 kilometers, near Chonburi Railway Station, 4.7 kilometers, near Tukcom 2.3 kilometers, near Tesco Lotus, Chonburi 2.5 kilometers, near Central Chonburi 2.7 km near Makro 4.8 km near Big C Chonburi 4.6 km near Big C Extra Chonburi 5.3 km near Index Livingmall 5.8 km
Project Highlights Condominium on Sukhumvit Road under the concept of livable community with facilities, swimming pool, sports field, shops and complete services within the project. near shopping mall and Chonburi Hospital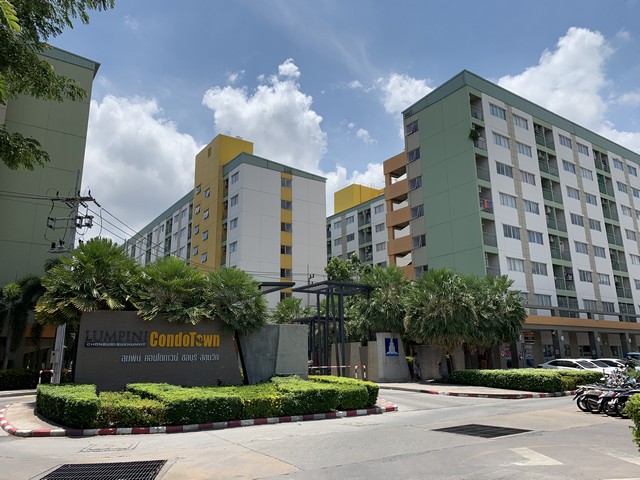 The location of Lumpini Condo Town Chonburi-Sukhumvit is Soi Petch Ban Suan 16, 18 Sukhumvit Road, Bang Pla Soi Subdistrict. Mueang Chonburi District Chonburi
Lumpini Condo Town Chonburi-Sukhumvit has 3 types of rooms:
Studio type, size 21 square meters
1 Bedroom type, size 26 square meters
2 Bedroom type, size 42 square meters
For a Studio room, size 21.00 square meters, it will be 4.65 meters x 4.65 meters. Usually, initially the condo has built-in furniture and ready-to-wear, priced at 120,000 baht. The room will have 8 mm laminate flooring. bun lamp There is a 2-seater sofa with a TV corner, a dining table with 2 chairs, a bed, a bed at the end of the bed can be an area for escaping, the balcony door forms a water-splash, approximately 7 centimeters high, for the balcony area 90 x 1.5 meters, below can be placed washing machine There is an air conditioner placed above. The bathroom uses products of the American Standard brand and the shower is Hafele.
For a 1 Bedroom, size 26 square meters, the total decoration value is 205,000 baht. There is a sofa for 2, a writing desk with storage. with tv stand There is a drawer to place equipment below. For the bedroom is divided by aluminum sliding screen.
There is a bed size of 5 feet with a cabinet beside the head of the bed with mirror doors. There is a balcony area 1.60 x 1.20 meters, can place two hanging air conditioners. Sanitary ware uses American Standard brand
For a 2 bedroom unit, size 42.00 square meters, which is a type of Studio room size 21.00 square meters combined.
Comes with a set of furniture worth 335,000
Condo information
Project highlight
swimming pool
Fitness center
Shops, restaurants, laundry shops
The garden
Playground
Fitness field
Getting around
Chonburi Hospital – 650 m.
Akechol Hospital – 1.8 km
Chon Buri Cancer Hospital – 4.5 km
Ekchol Hospital 2 – 6.6 km
Chon Buri Railway Station – 4.7 km
Tukcom (IT Department Store) – 2.3 km
Tesco Lotus Chon Buri – 2.5 km
Central Chon Buri – 2.7 km
Makro – 4.8 km
Big C Chon Buri – 4.6 km
Big C Extra Chonburi – 5.3 km
Index Livingmall – 5.8 km