Grene Chaengwattana condo review
GGrene. Chaengwattana condo is located in a very good location at the intersection of Prachachuen Road or Leap Khlong Prapa Road and Chaeng Watthana Road. Traveling is very convenient as you can choose from both the gates leading to Chaeng Watthana Road and Prachachuen Road. which is considered a convenient route to travel to Nonthaburi Province Or you can travel in the upper Bangkok area. In addition, Grene Chaengwattana condo can also be connected to Vibhavadi Rangsit Road, Phaholyothin Road, Tiwanon Road, Raminthra Road, Khlong Prapa Road. It is considered an interesting location that can be used as a residence for easy commute.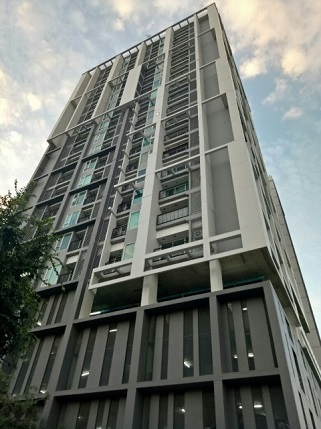 Travel for Grene residents Chaengwattana condo will be more convenient to travel because it is close to the expressway. But I must say that in the hour of heavy travel Whether on the expressway or not, the traffic is definitely jammed. Another point to be careful of is when IMPOC Muang Thong Thani organizes an event that has a lot of interest, which will result in more traffic jams. Traveling of the condo may have to plan a good trip.
Getting in and out of the city was easy for Grene Chaengwattana condo is accessible both from Chaengwattana Road and from Prachachuen Road. or the road along the canal Can run on Ramintra Road Expressway to Lat Phrao via Vibhavadi Rangsit Road and can go out to Nonthaburi via Pak Kret and can go to Don Mueang or to Pathum Thani via Khlong Prapa Road or Prachachuen Road can run to Ngamwongwan
For those who want to travel by public transport, they will have the opportunity to use the Pink line, which has the closest train station, Si Rat. The distance is about 500 meters from the condo. You can also choose to travel by other means such as buses, motorcycles, and motorcycles.
Grene Chaengwattana condo is very close to Tesco Lotus, Kaengwattana, only 200 meters away. and next to Tesco Lotus Chaengwattana also has The avenue which is a Community mall next to it. Big C Chaengwattana Considered to be in Grene Chaengwattana condo does not starve to death.
For people who stay in Grene Chaengwattana condo don't worry about getting hurt If you are sick, don't worry too much, Mongkut Watthana Hospital. less than 1 kilometer away from the project
There will be condos and houses nearby, namely Supalai Loft Chaengwattana Condo and The Base Khaengwattana Condo.

For anyone worried about flooding Grene Chaengwattana condo? It's difficult to answer because it is next to a canal. Drainage is not a big problem for Grene. Chaengwattana condo
For those who want to decorate their condos, there is an Index living mall nearby for buying room decorations.
Greene Condo Chaengwattana (Grene Chaengwattana), another high rise condominium project, 22 floors, 1 building, 376 units in Chaengwattana area from Preeda Holding Company Limited, a subsidiary of
Grene Chaengwattana condo is considered a high rise condo with a height of 22 floors with a total of 376 units. The responsible person for the project is Pridi Holding Company Limited.
Grene Chaengwattana condo has 49 percent parking, excluding double parking. Will be able to park on the 2nd to 5th floor, and can park partially on the 1st floor Grene Chaengwattana. The condo has a small green area around the project. There are 2 entrances and exits to the project, namely on Chaengwattana Road and Liap Khlong Prapa Road. or Prachachuen Road Security is not a concern, there is security from a security guard 24 hours a day. Access to the condo will require a key card to enter and exit. make it more secure
Grene Chaengwattana condo's rooms will focus on practicality rather than focusing on beauty.
Entering the Grene car park Chaengwattana condo will need a key card to park at the condo.
For the 6th floor is the first floor that has 15 units of living rooms and is divided into a common area consisting of a saltwater swimming pool with Jacuzzi, children's playground, seating area, sauna room. It is suitable for separate male and female, fitness and multipurpose room. For those who choose to buy a room on this floor will have a comfortable access to the common areas. No need to go up and down the elevator to waste time. But it will lose a little bit of privacy. because you will encounter the hustle and bustle at times Therefore, it is not suitable for people who love peace.
Grene Chaengwattana condo will have residential rooms starting on the 6th floor, which will have a total of 15 units. In addition to the residence is a sauna. Fitness room for residents who like to exercise. Children's playground for residents with small children. Swimming pool with salt system for cooling down By entering and exiting the central area, a key card is required.
In the building, there will be a total of 4 elevators, which is considered appropriate with the number of 1 to 94. Safety is not to worry, there are 2 fire escape stairs in total. In addition, in case of emergency, there will be a parking point for helicopters for transporting. can take people too
When we look at the 7th floor, we will find that this floor is all residential rooms. Condo elevator Grene Chaengwattana Grene C
Grene Chaengwattana condo for the 8th and 9th floors will have larger rooms than the 7th floor, but will have the same number of units, which will have a 1 Bedroom unit of 33 square meters, a Duplex style.
The 10th to 14th floors are the same as the 8th and 9th floors, but the room sizes are somewhat different.
The 15th to the 22nd floor will have an L-shaped balcony. And when we walk up to the 22nd floor, there is a common garden where we can relax.
Grene Chaengwattana condo has many types of rooms. There are 4 types to choose from. Each room will have a peephole door for every room.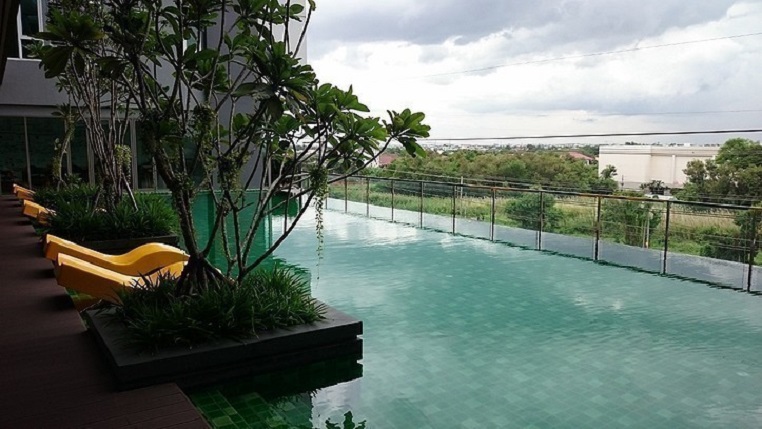 You can choose a duplex room of 59 square meters or a 2 bedroom room with a size of 61 square meters, with the smallest being a studio room of 22 square meters. Studio rooms are considered the most of the project. will be between 22 square meters in size and 23 square meters. A room of 22 square meters will look like a room in the shape of a rectangle. For a room of 23 square meters, it will be a square shaped room.
For the 1 Bedroom room, it is especially suitable for the cook because it is a closed kitchen. The 1 Bedroom room size is 32 square meters or more. Well proportioned, bedroom, living room, bathroom,
balcony, kitchen.
The 1 Bedroom type has a size of 33 square meters and 34 square meters, the other has an L-shaped balcony. Characteristics aimed at sun protection.
With a slightly elevated platform in front of the corridor, the goal is to prevent dust from entering the room from outside. The handle is stainless steel. Use the key to open the room. It's not a digital lock.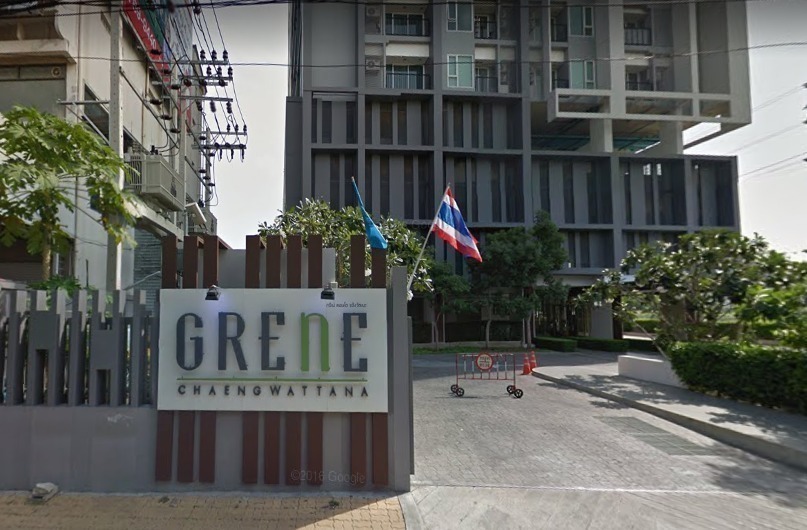 The kitchen and living room are separated by sliding doors. The living room is covered with laminate flooring. Have a good fire protection system Built-in furniture
Originally, the condo was sold as a fully furnished room. A kitchen that is separated from the living room is suitable for those who like to cook. Bedroom next to balcony and bathroom.
Another type of 1 Bed room has a size of 33 square meters, which means that you can eat and cook in the same room.
The last 1 Bed room is 35.5 square meters, connecting the bedroom and living room with a balcony. The corner will go to the east. spacious area
Let's move on to the 2 Bedrooms room, the smallest size is 59 sq m. It is a 2 bedroom, 2 bathroom type. The layout is well laid out. The only downfall is that a 2 bedroom unit will have an open kitchen. Suitable for light cooking No smell or a lot of smoke
For a 2 bedroom unit, there are 2 bedrooms and 2 bathrooms with a size of 59 square meters or more. In this project, the kitchen will be adjacent to the living room. For 2 bedrooms, size 61 square meters, kitchen and living room will be connected as well. There is a separate bathroom. The master bedroom has an ensuite bathroom.
In the end, it will be a duplex room that gives the feeling of a 2-storey house with a size of 59 square meters.
Grene Chaengwattana condo has many shopping areas, such as Big C Chaengwattana for shopping. Muangthong Market for buying fresh items The Avenue Chaengwattana for walking and eating There are Lotus Chaengwattana Makro Chaengwattana for buying things into the room IT Square for buying work equipment Tai Watsadu Chaengwattana for buying room decorations There is Villa Market @Grand Canal For eating, walking and relaxing, there is Sport City for exercise.
There are four main Max Value for general items, One One Food Avenue, Urban Square, Central Plaza Chaengwattana, Central Plaza Ramintra for shopping, relaxing, Bee Hive Lifestyle Mall, Home Pro, Pak Kret for room decoration equipment, The Mall Ngamwongwan for Take a walk with Major Hollywood, Pak Kret for watching movies and relaxing There are Jae Leng Don Muang for shopping, Robinson Srisamarn for strolling, and Happy Avenue Don Mueang. There are many fresh things to buy from Mali Market. @Muangthong express Don Mueang New Market Watthananan Market Boonan Market It is also close to government offices. Ministry of Justice Thai Post Headquarters Royal Irrigation Department, Chaeng Watthana Government Center, CAT Headquarters, TOT Headquarters
Metropolitan Waterworks Authority Headquarters (MWA) Chulabhorn Research Institute AFS Thailand Thai Airways Headquarters There are also important private agencies CP All IMPACT Bright TV TPBS and near Don Mueang Airport. near the school St. Francis Xavier School (STFX) Sukhothai Thammathirat Open University Dhurakij Pundit University (DPU) Harrow International School
Phranakhon Rajabhat University Krirk University ISB International School Sripatum University St.Andrews International School Samakkhi Sikan School Rose Marie International School Phraharuthai Donmuang School Horwang Nonthaburi School Magic Years International School Suankularb Nonthaburi School Ampornpaisan School
For the hospital, do not worry because the condo is close to many hospitals, whether it is Mongkut Watthana Hospital Chulabhorn Hospital World Medical Hospital Krungthai Hospital Irrigation Hospital thoracic hospital
Condo information
Project highlight
lift
Parking
24 hour security
closed circuit camera
swimming pool
Sauna
Fitness
Garden
Barbecue area
Playground
Children's area
Getting around
Muangthong Thani
Lotus Chaengwattana
The Avenue
Big C Chaengwattana
Mukdahan Vattana Hospital
Central Chaengwattana
Macro
IT Square
The Government
DPU Startup University