BTS Phloen Chit – Athenee Residence Ruamrudee condo review
The location of the Athenee Residence condo is located in Soi Ruamrudee. The mouth of the alley is Ploenchit Road. Near the Green Line Skytrain BTS Ploenchit Station Surrounded by residential areas, government offices and various office buildings Therefore, there are many shops and restaurants within walking distance. Not far from the on-off expressway, so it's easy to travel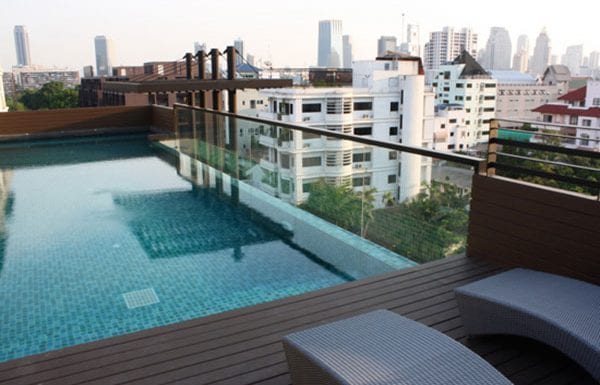 Traveling by private car It is convenient from the location of the condo in Soi Ruamrudee, an alley connecting Ploenchit Road and Wireless Road. As for Ploenchit Road, it is a main road that connects to Sukhumvit Road and Rama 1 Road, which are the main roads, making it connected to many roads. Travel is convenient. If you go to Sukhumvit Road as the main road, you can travel to many other roads. From the Asoke intersection, go straight to Ratchadaphisek Road to Rama IV Road, or you can go to Asoke Montri Road, running straight to Rama 9 and Phetchaburi from this way. If going straight to the end of Sukhumvit through Phra Khanong intersection, it will go straight to Bang Na to Samut Prakan. or if passing On Nut intersection, turn to Lat Krabang, Phatthanakan, Srinakarin
From Ploenchit Road, runs into Rama 1 Road, Ratchaprasong Intersection, into downtown Bangkok and the economic district. Or if you want to run straight, you can enter the Phra Nakhon area. Wireless Road connects to Ploenchit Road and Rama IV Road, which is another route where traffic will run smoother than Sukhumvit Road. This line runs to connect Sukhumvit at Phra Khanong intersection. Can go straight to connect Rama 3 Road and Ratchadaphisek Road at Rama 4 intersection, making it possible to go in many routes From there, if you run into Rama 3, you can go to Rama 2, and this Rama 4 line goes straight to Sathorn. This line will be a point where you can easily get on and off the expressway.
Expressway The location of the condo is near the entrance-exit point of Chalerm Mahanakorn Expressway. This expressway can easily run into and out of downtown Bangkok. Only 2.9 km away from the condo, which is an up-down point on Rama IV Road. As for the up-down point on Sukhumvit Road, it can be done, but you have to drive around further.
traveling by public transport It is very convenient because in front of the condo you can easily call a motorcycle and a taxi. The entrance of the alley on Ploenchit Road is adjacent to the Green Line (BTS) Ploenchit Station.Green Line Mo Chit – Samrong, Ploenchit Station will connect with the blue line, dark green line You can see that the condo location is surrounded by electric trains. The nearest skytrain is the Green Line (BTS), Ploenchit Station. Which is a line that connects to other lines, both the blue line and the dark green line It makes traveling in and out of downtown Bangkok by public transport very convenient. Dark Green Line National Stadium – Bang Wa will connect to the Green Line at Siam StationMRT Blue Line Bang Sue – Hua Lamphong will connect to the Green Line at Asoke Station This line will go straight to connect with the Purple Line.
The condo location is in a residential area. Ploenchit and Sukhumvit Roads are home to many office buildings. In Soi Ruamrudee, there are hotels and office buildings. Makes the surrounding area of the condo abundant, within walking distance, a lot and variety Behind the condo is the Athenee Tower and Athenee Hotel, which will have a coffee shop and MaxValue, a 24-hour shop, very convenient for shopping because there are both frozen and cooked food.
In Soi Ruamrudee, there are many restaurants. Opposite the condo, there is a 7/11 shop. Walk into Soi Ruamrudee a little further, it will be Ruamrudee Village, which is a restaurant area. There will be many restaurants and a variety of Thai food. Foreign food and coffee shops, bakeries, at the entrance of Soi Ruamrudee under the expressway there will be a market @ Ploenchit. which is a mid-day market where curry dishes, noodles are open for sale or will cross to the opposite side, there will be Soi Nana market It is a large market with shops and restaurants. Or if you walk a little further, it will be Central Embassy, which all of these are points that are easy to walk from the condo to shopping.
As for the Rama 4 line, it is a line that goes directly to Sathorn and Silom. which is a source of various office buildings Near Lumpini Park is a large park where you can go for jogging and taking a leisure walk. If going straight along the Rama 4 line, heading to Sam Yan, there will be hospitals, educational institutions including Chulalongkorn University, Chula Demonstration School, Triam Udom School. Which the area is a source of students, workers
nearby landmarks MaxValue Convenience store 7/11 Ruamrudee Village Market @ PloenchitMahatun Plaza Ploenchit Center Central Embassy Nana Square Soi Nana Market Central Chidlom Amarin Plaza Erawan Korean Tower Times Square Terminal 21 Siam Paragon Robinson Sukhumvit Siam One Siam Center Siam Discovery MBK The EmQuartier The Emporium Silom Complex Gaysorn Plaza Central Word Chamchuri Square Athenee Tower Athenee Hotel All Season Place Krung Thai Bank Headquarters Embassy of the United States of America
Embassy of Japan Australian Embassy National Police Office Tourism Authority of Thailand GrammyTobacco Factory Wattana School Saint Dominic School Don Bosco College NIST International School Chulalongkorn University Demonstration SWU Srinakarinwirot University Triam Udom Suksa School Chula Demonstration School Bumrungrad Hospital Police Hospital Chulalongkorn Hospital Rattanin Eye Hospital Bangkok Christian Hospital .BNH Hospital Lumpini Park Wat Pathumwanaram Benjakiti Park Bangkok Art Center National Stadium Queen Sirikit National Convention Center
Facilities swimming pool fitness common garden security guard CCTV in the condo Key card door
Highlights of the Athenee Residence condo, Modern & Luxurious style condo in the heart of the city, conveniently located about 200 meters from Ploenchit BTS Skytrain Station, surrounded by shops and restaurants.